Details of Medicinal Plants
Frankincense

Boswellia sacra Flueck. Burseraceae

This plant is an understory evergreen tree. The plant height is 3 to 5 meters and grows wild in dry areas from the Arabian Peninsula to Turkey. This plant has characteristically long lateral branches. The resin which flows from the bark is used as herbal medicine, has a fragrance known as the oldest fragrance, and is used in temples.

Part used: resin
Medicinal use: antibacterial action and fragrance
Main component: beta-boswellic acid, pinene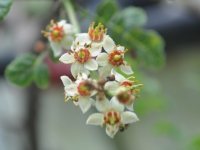 The flower is a small, light yellow raceme.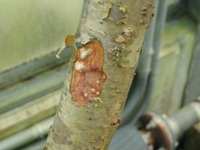 The sap that leachs out after damaging the bark is allowed to harden before it is gathered. The color of the sap changes from white to purple red in two or three weeks.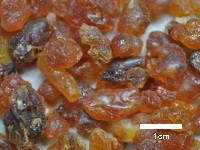 The quality of resin left on the tree is said to be good, while the quality of resin on the ground is said to be inferior.